Maximizing Your Compensation - The Art of Negotiation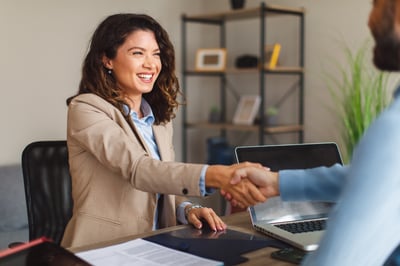 In baseball, winning a game requires 27 outs. And, as any fan knows, the last out can often be the most challenging to get. In the same way, whether you're in a job search or already in an executive position, negotiating your compensation can be the "27th out" you need to win the game.
As a self-described "recovering headhunter" who spent 20 years in the industry, Eric Herrenkohl, our Managing Director of Executive Coaching and Career Services at AchieveNEXT, has learned a lot about the dos and don'ts of maximizing compensation. In this article, we will share some key insights and strategies to help you negotiate compensation and achieve your career goals.
What is Your "Because"?
When negotiating your own compensation (or anything else for that matter) it's important to know and communicate your "because." The human mind is wired to respond to the word "because." So what's your rationale? You want to make more money. Great. What's in it for the company? How do you create value? How do you create MORE value? By creating a business case for your compensation, you can demonstrate the only "because" that matters in business — that you are a worthwhile investment.
Total Rewards vs Cash Compensation
When discussing compensation, we tend to focus on salary and bonuses. However, it's important to remember that compensation includes much more than just base salary cash. This concept is known as "total rewards."
Total rewards may include perks that offer that work-life balance everyone is seeking in the post-pandemic business world or other, more tangible offerings such as:
Long-term incentives (stock options, restricted stock, tracking stock, etc).
Generous PTO
More senior title
An executive assistant
An executive coach
This could also include benefits such as car and cell phone allowances, financial planning, concierge medical services, and others. The higher up you are in the company, the more sophisticated the total compensation equation becomes.
Building Your Compensation Spreadsheet
Developing your negotiating strategy requires you to understand all of these components, and to know what's most important to you. You're likely not going to get everything that you want. But that doesn't mean you can't ask for it all and then work backward to a better place than when you started.
For example, is total cash compensation at the top of your list, or is flexibility more important? Are you willing to trade a lateral title for a meaningful bump in cash compensation? Would you ideally like a 25% raise but are willing to take 15% if the medical benefits are impressive enough? You gain clarity on all these things by creating a spreadsheet that helps you to first assess yourself before you start negotiating.
Chutzpah
More Than Brains
Finally, when it comes to actually engaging in negotiations, it takes chutzpah more than brains. No one will look out for your interests if you don't. Be willing to ask for what you want, bearing in mind that your leverage comes in knowing where you are willing to flex, and where you will absolutely hold firm.
Negotiating compensation is the "27th out" you need to win the career management game. By having a strategy in place, understanding total rewards, and being willing to negotiate, you can get to that next position and achieve job fulfillment.
Pitch a Perfect Game with Help from AchieveNEXT
You know your worth. Now it's time to make sure that your compensation reflects that. AchieveNEXT can help you learn the skill of negotiation and help you build the perfect compensation package. Our team of experts provides strategic and financial solutions that empower leaders to make better decisions and drive growth. Contact AchieveNEXT today to learn more about how we can help you succeed.