How Do You Get Measurable Results from Your ERGs?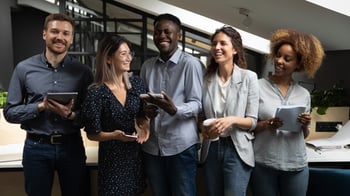 You've probably heard of Employee Resource Groups (ERGs) and likely participated in one as well. ERGs have been around for decades. While they have been well-received, one element has been missing — tying group achievements to corporate strategies that create measurable business impact. So how can you ensure you are getting quantifiable results? Transition your ERG to a Business Resource Group (BRG).
ERGs are employee-led, self-directed, voluntary groups that operate independently and, at minimum, provide opportunities for members to network, receive support, experience inclusion, and create mentoring and career development opportunities.
ERGs started in the 1960s when Black workers at Xerox organized to discuss race-based tension in the workplace. At that time, they were called "affinity groups."
Initially, ERGs emphasized social networking and opportunities to share experiences and challenges. In the 2010s, ERGs "grew up" into Business Resource Groups (BRGs), to align closer with business strategy, while still fostering awareness and inclusion.
There's no question that ERGs benefit employers. According to Sheldon Goode, Ph.D., former chair of the Diversity and Inclusion Leadership Council for the Conference Board, 90% percent of companies he surveyed said ERGs help employees become more comfortable during the onboarding process, which is key to retention.
BRGs focus on quantifiable, measurable outcomes that:
Advance brand image
Provide members with access to growth opportunities through access to the C-Suite/Board
Increase product development and innovation
So how can you transition your ERG to a BRG?
Evaluate your ERG: How well is it received by your employees? Consider using anonymous surveys or other ways of gauging their views.
Gather participation metrics of active members vs. potential members and the amount of time and activity focused among groups: How many employees are regularly attending meetings? Track member engagement by dividing the number of active members by the total members times 100%.
Quantify any new products, features, and wins in which ERGs have played a role: Include renewals and success stories.
Identify how ERGs have assisted with corporate DEI objectives: Are ERG leaders aligned with your company's DEI team and goals?
Recruiting: Is your ERG increasing referrals into your talent pool by tapping into specific interest groups for recommendations?
Identify new data points by asking about ERG involvement in exit interviews: How engaged was each employee? Why did they choose to participate, or not participate, in an ERG?
Your next step is to transition to a BRG. Here's how to get started:
Establish a clear line of communication to and involvement with members/groups and the C-suite board.
Identify measurable goals to tie group participation to specific business outcomes.
Create a communication plan with a regular cadence in all employee communications and recruiting and onboarding materials to promote BRG participation.
Incorporate measurable BRG participation/membership activities into your HR goal-setting process and compensation plan.
Among the many benefits of a BRG, are:
Members are often active in the community and can therefore help identify talent.
Gives diverse employees a chance to learn from each other.
Help recruit more diverse employees.
Are you ready to take your ERGs to the next level?
At AchieveNEXT, we help mid- and emerging market leaders improve their performance and reach their full potential by providing a combination of diverse peer advisory networks and talent management performance solutions. With a focus on promoting an inclusive workplace culture, AchieveNEXT offers a range of services including:
Workforce planning
Succession planning
Talent management strategy
Executive coaching
Business relationships
Sales team effectiveness
Career services
Leadership development
Management development
DEI/Culture
Are you ready to take your ERGs to the next level? AchieveNEXT can help. Contact us to learn more.