A Micro Conversion Sales Strategy for Today's Economy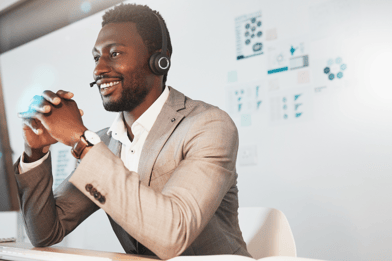 Economists are predicting a pending recession. The best way to thrive during economic uncertainty is with a plan. But how do you know what to focus on? Should you expand your existing customer base? Seek to develop new clients? The answer is to focus on a micro sales strategy, not a macro.
The United States has a 66 percent chance of an economic recession by July 2024. It probably won't be as severe as the Great Recession or the COVID-19 pandemic, but it will still impact us.
While you should be aware of the macro, or future economic conditions, don't focus on what you can't control. But you can focus on how your business prepares for and reacts to them.
Prevailing wisdom suggests you direct your attention to your top customers and seek more business from them. Then, approach customers who have declining revenue. However, that isn't always a good approach.
What is Micro
Marketing and
What is Macro Marketing
?
Your best approach is to begin with the micro. What does this mean?
First, you must understand the difference between micro marketing and macro marketing.
Macro marketing, or macro-conversions, are actions that customers take to serve the primary goal of your business, whether it's a product or service. Tracking macro conversions can help you better understand your product or service, evaluate the success of your marketing strategy, and determine if you've completed your primary business objective.
Micro marketing, or Micro-conversions, are much smaller steps your users take that also help you reach your primary business goal. Tracking micro-conversions can help you uncover friction points, discover ways to address them, and identify customer insights. It can also help you find a new, effective way to reach target audiences and get them to the bottom of the "sales funnel" or convert them into customers.
Macro vs. Micro
: How to Change Your Focus
First, approach your clients who have declining revenue. Ask them how the economy is impacting their business. That will allow you to learn more about what solutions you can offer and inform how you communicate with them. A micro strategy is time-saving and can help you grow those relationships.
Next, approach your up-and-coming customers, and lastly, contact your established clients who already generate a lot of business for you.
The micro, or small moments, can be powerful because they can persuade interested customers to act. Ultimately, when you increase your micro-conversions, the macro-conversions will also increase.
Another way to use a micro sales strategy is by dividing markets and customer pools into small, data-based customer groups with common characteristics.
Micro-segmentation can help you identify opportunities with current customers and potential customers within those groups. It can help you uncover information and data about which products or services those customers prefer, helping you develop more effective marketing strategies.
Sales Effectiveness Training
At AchieveNEXT, we help mid- and emerging market leaders achieve their next level of growth with a range of services including sales effectiveness. The team at AchieveNEXT has helped over 29K sales professionals increase sales and profits using a strategic focus on business relationships.
Our other services include:
Workforce planning
Succession planning
Talent management strategy
Executive coaching
Business relationships
Career services
Leadership development
Management development
Inclusive leadership
Contact AchieveNEXT to learn about our sales effectiveness training and other services.