Who Are the Most Burned-Out Employees in the Creative Industries?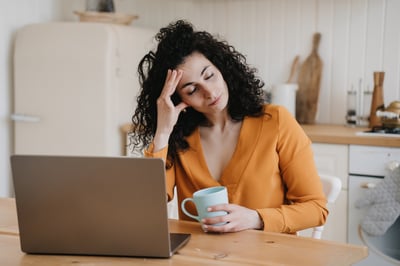 The creatives of the creative industry are those who drive innovation. They are crucial to all sectors. As the backbone of the fast-growing creative industry, they contribute inventive ideas, fresh perspectives, and captivating visuals. Creatives elevate any business, help attract new clients, and connect with consumers emotionally. Unfortunately, they are also the most burned-out employees within the creative industry.
The creative industry includes those based on individual creativity, skill, and talent. It includes advertising, architecture, arts, crafts, design, fashion, film, music, performing arts, publishing, R&D, software, toys, games, TV, radio, video games, and more. When creatives get burnt out, they procrastinate, feel stressed, are less effective, doubt their worth, and become drained or irritable.
The result is more absences, lower productivity, and higher turnover. All of these can affect your company's bottom line. When creatives have a healthy work-life balance and feel valued, they can help your company achieve the next level of growth.
A study released at the Cannes Lion Festival of Creativity by international advertising agency TBWA Worldwide shows that only about 55% of creatives are satisfied with their work-life balance and they are more likely to feel burned out or discouraged compared to a 64% global benchmark. The study was co-authored by Ben Williams, TBWA's global chief creative experience officer, and Agathe Guerrier, the agency's chief strategy officer.
The study also found that creatives are twice as likely to say the daily grind degrades their work experience.
"Creativity can move the world forward". Williams said. "But for agencies and creative companies to be leading this progress, work cultures need to evolve, quickly".
Surprisingly, the study found that rather than seeking an employer based on values, creatives place a higher value on other characteristics, with work-life balance at the top of their wish list. Today's creative talent works to live, not vice versa. They have specific concerns about work-life boundaries, stability, and "mind maintenance".
"Where we thought talent yearned for an employer who aligned with their high-level values and worldview, we're discovering that their expectations are more pragmatic -- more -- about the fundamentals of pay, career opportunities, and lessening the operational burden that affects their mental health every day", Williams said.
In fact, the cultural value that scored lowest of the nine measured was called Activist Awakening -- the idea that work should align with a person's values or causes they care about.
The COVID-19 pandemic created a remote work revolution. Before the pandemic, 13.2% of the workforce was remote. Remote work is now expected to continue to grow at a fast clip. Post-COVID, hiring managers expected 21.3% of the workforce to be entirely remote. In addition, 28% of all new job postings in January 2023 were advertised as remote. This is excellent news for most workers, as it allows them more flexibility, time savings, and more family time. But remote work can also blur the lines between work and life.
"Where we used to think talent wanted work and life to blend, we're instead hearing loud and clear talent tell us: Respect my boundaries and stay in your lane, especially when physical boundaries of life and work are fading away with remote work", Williams said.
So what can you do to ensure your creatives don't get burnt out?
"Our talent is asking us to respect their time and mental space, to provide financial stability, and to deliver a better daily experience of creative work", Wiliams said.
The study's findings about the creative industry are consistent with what AchieveNEXT sees across all sectors. Employees want balance, stability, and an enhanced focus on their well-being.
Here are the other ways you can combat burnout among your creatives:
Annual reviews – Performance reviews help creatives achieve their goals and ambitions and capitalize on their strengths.

Career pathing – Creatives who know their future opportunities within your company are more likely to stay with you for the long haul.

Succession planning – Succession planning tells your creatives that you know their skills and preferences and that they will be promoted if suitable roles arise.
Equitable compensation –- Creatives want to be paid based on the value of their work.
New skills – Give them a chance to learn new skills. Creatives need to be challenged and explore new facets of their creativity.
Maximize their talent – You will get the most out of your creative employees if you help them identify what they do best, praise them for it, and guide them into tasks that maximize their natural talents.
AchieveNEXT: HR Solutions
At AchieveNEXT, we understand that you must deliver the daily employee experience your creative talent deserves. We can help! AchieveNEXT helps mid- and emerging market leaders improve their performance and reach their full potential by combining diverse peer advisory networks and talent management performance solutions.
Our services include:
Succession Planning
Talent Management Strategy
Executive Coaching
Business Relationship Training
Sales Team Effectiveness
Career Services and Coaching
Leadership Development
Management Development
DEI/Culture Audits
Click here to contact us and learn how to take your business to the NEXT Level.