Inclusive Leaders: Three Most Important Behaviors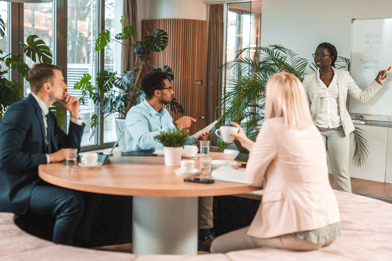 As a leader of your company, you need to be capable of managing and leading a diverse group of people and respect and celebrate their differences.
To do that, you need inclusive leaders, which means listening to your employees, acting transparently, and being willing to learn and change.
Why Is Inclusive Leadership Important?
Today's society is more diverse than ever. According to race statistics from the 2020 census, all of the nation's growth from 2010 to 2020 is attributable to people of color. Those who identify as Latino or Hispanic, Black, Asian American, Native Hawaiian or Pacific Islander, Native American, and as two or more races now make up more than 40% of the U.S. population. Diversity also includes gender, sexual orientation, and disabilities.
That is why leaders must work to foster diversity and inclusion in the workplace by practicing inclusive leadership. Inclusive leadership is good for your bottom line, too. Teams with inclusive leaders were 17% more likely to say they are high-performing. The diverse workforce is 35% more likely to realize greater financial returns than the industry average. And companies with diverse management teams have 19% higher revenue.
Lastly, in today's tight labor market, practicing inclusive leadership can help you attract top job candidates. In a recent survey, 80% of respondents said inclusion is a factor when they choose an employer.
The Top Three Behaviors of
Inclusive Leaders
1. Be Transparent and Authentic
While traditional leaders usually make decisions from the top without sharing their motivation, inclusive leaders are transparent. They tell employees their reasons for making the choices they do, which involves employees in driving their companies' agendas forward.
Inclusive leaders are self-aware and genuine and lead by being their best, most authentic selves. Their hearts, purpose, values, and integrity guide them. When they ask their employees for excellence, they demonstrate it with their behavior. Inclusive leaders provide information in a clear, timely manner when someone asks them for it.
2. Be Open to Feedback and Listen to Your Employees
Asking for feedback (and being open to acting on it) is one of the most crucial behaviors of inclusive leaders. It can be hard to recognize your biases and preferences. Active listening means you give individuals a safe environment where they can share their thoughts, even about controversial topics.
You also need to be ready to receive and discuss messages that you might not have expected or disagreed with, which requires introspection and open-mindedness. Being humble enough to admit your mistakes or limitations is a way to model collaborative problem-solving.
At AchieveNEXT, we approach our inclusive leadership training by soliciting feedback using a data-driven, employee-centered process. We begin with an enterprise-wide culture audit to objectively measure your organization's culture and the teams within it. This feedback helps you identify cultural blind spots and areas for growth.
We also design an inclusive leadership survey to assess voice, dignity and respect, trust, and diversity. We then provide support to ensure the resulting data helps analyze and inform strategic decision-making.
3. Be Willing to Learn and Change
Prior methods aren't always the best ways to solve problems. To innovate, you must be willing to challenge established practices. Inclusive leaders are open to different ideas and perspectives to show they want to learn and improve the status quo.
At AchieveNEXT, we use the data we gain through your culture audit and inclusive leadership survey to develop a strategic road map that is specifically designed to help you lead change that results in measurable outcomes. The roadmap can help you identify priorities, key opportunities, and strategies, and allow you to incorporate inclusive leadership elements into your organization and continue to develop it from there.
Build a Better, More Enriching Workplace with Your Inclusive Leaders
At AchieveNEXT, our team has decades of experience helping executives and their teams achieve their next level of growth. We can do the same for your organization. In addition to building a road map to help you weave inclusive leadership into every facet of your company, we provide the following services:
Executive coaching
Business relationship training
Sales effectiveness
Career services
Women's leadership
Leadership training
Manager development
Keynote speaking
We would love to tell you more about our inclusive leadership training program. Contact us to learn more.